Early Access

Build your dream team!
Fantasy Snooker is a free game where you build a team of snooker players and score points based on how well they do in actual tournaments.
When you start you have a limited amount of money you can use to buy players. The top players are more likely to score more points, but are more costly. Choose wisely.
Compare yourself to other players and see how you rank. Or you can play for yourself. It's up to you how you want to play.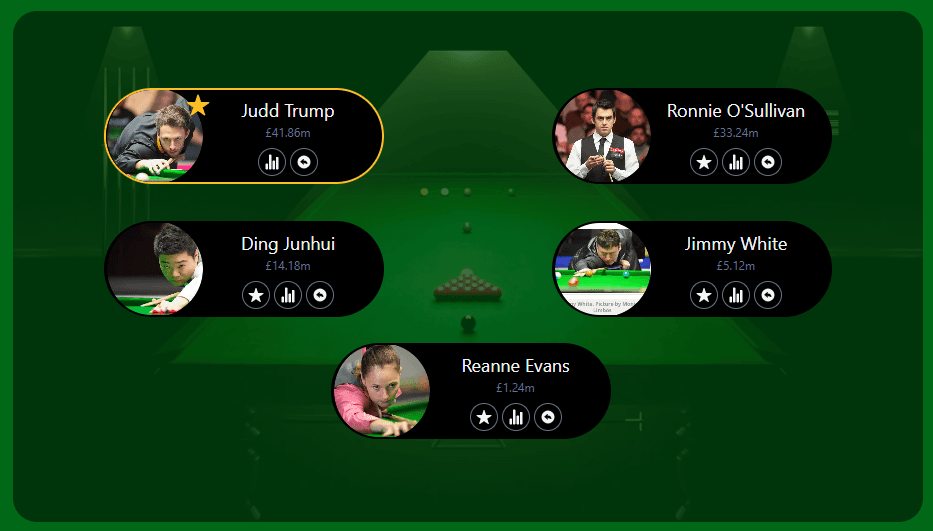 Example of a dream team you can build.
Early Access
The game is currently in Early Access. This means that the game is in early development and is more subject to change than one normally would expect. We appreciate feedback, both positive and negative, especially during this early phase.
21 days ago

Kjetil Hårtveit - Founder

Today we are announcing our newest feature: player points and values 🎉. This feature gives further insight and transparency into the backbone of Fantasy Snooker and illustrates how the points and player value system is intertwined.

Note that this feature/tool is not just for the audience, but it also helps us in identifying anomalies by presenting our data in a more presentable and human-readable manner. It assisted us in solving a bug, originally reported by @lesPuzz, where certain tour players (in the 2022/2023 season this affected Stephen Hendry and Bai Langning) were not purchasable. Please note however, we will need to re-generate values for these players and at time of writing this is not yet done...

about 1 month ago

Kjetil Hårtveit - Founder

Brecel beat Mark Selby in a thrilling final to round up the first season of Fantasy Snooker! I hope you enjoyed the World Championship, I certainly did.

Fun fact, only two of you had Luca Brecel in their team: Hermund and his Nostradamus 12 and The Screwdriver and his The Tool Box 👏...