Early Access

Build your dream team!
Fantasy Snooker is a free game where you build a team of snooker players and score points based on how well they do in actual tournaments.
When you start you have a limited amount of money you can use to buy players. The top players are more likely to score more points, but are more costly. Choose wisely.
Compare yourself to other players and see how you rank. Or you can play for yourself. It's up to you how you want to play.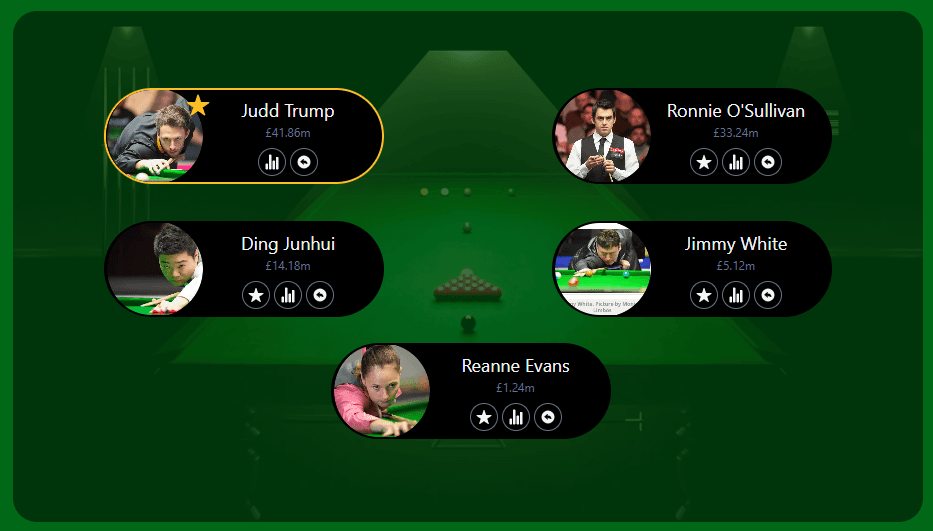 Example of a dream team you can build.
Early Access
The game is currently in Early Access. This means that the game is in early development and is more subject to change than one normally would expect. We appreciate feedback, both positive and negative, especially during this early phase.
about 21 hours ago

Kjetil Hårtveit - Founder

We have many ideas and features in store, among them are:

Ranking list (compare yourself against other players - this will be prioritized)
Calendar of upcoming events...

about 22 hours ago

Kjetil Hårtveit - Founder

Fantasy Snooker is now available in Early Access. This means you can enjoy the game like you normally would, but we're emphasising that it's in early development and it's more subject to minor/major changes. Before the full release (or next stage) we might delete data in order to keep the development speed high in this early phase. We will, of course, try to keep the friction to a minimum and try to give you the best experience as possible. We appreciate all feedback (positive and negative) and reporting of bugs/problems so we can keep improving the game...