Live rankings and first tournament of the season in the books!
26 days ago
Kjetil Hårtveit - Founder
It's two days since the BetVictor European Masters 2023 ended with Barry Hawkins taking home the trophy. He beat Judd Trump 9-6 in the final with a steady and relentless performance, I lost count of how many frames he won he had no business of winning!
The tournament started off the Fantasy Snooker season 2023/2024 with a blast, and we also managed to sneak in a new feature in the closing minutes of the tournament: live rankings🥳 (you might not see it now, wait until a tournament starts)!
Glen took a healthy, early lead with a pretty good prediction. His team consisted of Barry Hawkins (winner of the tournament, he even chose him as the Captain!), Mark Selby (semifinalist), Kyren Wilson (quarterfinalist), David Gilbert (round 4) and Hossein Vafaei (round 2).
The next tournament is the Shanghai Masters in about 12 days (11th of September) which is a B tier tournament. This means even more points up for grabs! Although it's an Invitational tournament, its prestigue is unquestioned and the top 16 players in the World are going to be there, as well as some quality Chinese players. Oddly enough, we won't see Barry Hawkins there though.
Who do you think will win it? Get your team ready and best of luck!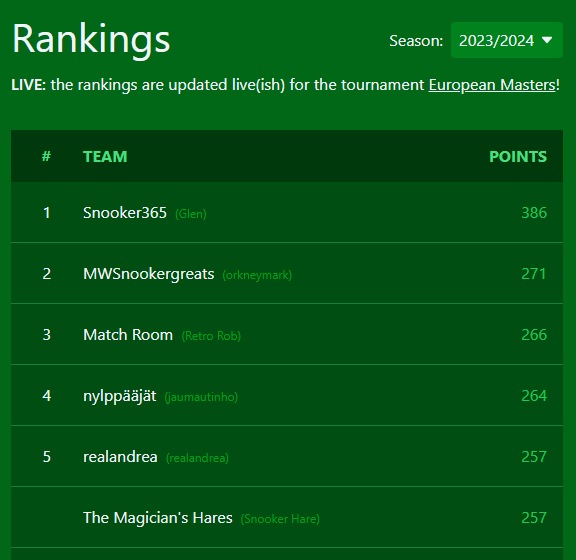 Live rankings just after the final of the European Masters where Glen took the early lead.